L A T E S T     N E W S
(Click on photos to enlarge)
2016
DECEMBER
31ST  Thats it the end of another year at The Nook.  A lot to look forward to in 2017 – January Brit-Vic due to have puppies, the THRILLBILLIES are all set for a good year along with a lovely advert going into the ESA Yearbook. a few short breaks already planned.
30th Took the newly called "Thrillbillies"   (Acer & Silva) and of course William over to visit Bev & Don about an hours drive away,  to give them a good gallop in one of their secure paddock.(The Fresian Horses use the other fields)   It was a little foggy for a good photoshoot,  and having taken 280 continuous shots I ended up with more bums and tails than anything else.   Want a new camera – but she who wants never gets so I am told !!  William who is nearly 11 in his red coat looks like Lord of the Manor.  Then went in for a quick coffee with Bev, Don along with Mia & Duke the Dobbermans and of course Rio their english Setter and just how brave was I feeding the Dobes. Looks are very deceiving but their owners were not far away.
29th Received the finished Artwork/Design of Silva & Acer for the one page Advert i have placed in the English Setter Association 2017 Yearbook.   Here is a little taster.
11th For those of you who dont know it was my 70th Birthday today, and what better way to spend it than at the Birmingham NEC at the Ladies Kennel club Championship Dog Show. I took with me a few tipples and nibbles to celebrate – but the icing on the cake was Acer winning his Junior class out of five which was great. Thanks to our Judge David Howarth (Moorbrook)  (Silva stayed at home today)   I think somehow everyone knows I like Baileys as apart from cards, flowers, presies I have received about l5 bottles of Baileys.  Acer wasnt kean to pose for the photo and the lighting at the NEC is not good.
5th Was sent this photo of Bertie yesterday from Kerry, a friend who owns Dapper Dogs Grooming in Leek, Staffs.I had recommended her to Colette his owner and this is after his first trim    He looks such a poser,
4th – Early start off to Elsecar Heritage Centre for the Northern English Setter championship Dog show.  So thrilled that both Acer and Silva returned with a 2nd prize card from very good sized classes.
1st Just given Toffee who is now almost 15 weeks old,  her first proper shower and blow dry.
NOVEMBER
17th Returned from being out for a couple of hours  – (I had driven on the A38 and it was horrendous on the way with strong winds, but on the way home calm and quiet.)  However, having gone into my house the dogs in the back looked very unsettled. I opened the door and let them all out including the 2 visiting setters and within seconds screamed for them to come in again.   A huge huge big old dangerous oak tree had been hit by a mini tournado and broken off at the base.       1/3 rd in my garden with broken branches absolutely everywhere. I had informed the Factory behind a year previously it was dangerous, they had even visited me December last year and said they would arrange for it and the one next to it to be removed in Jan 2016.   Too late she cried one year later there it is crashed.  Had the whole of the tree leaned the other way my bungalow roof and back windows and dogs would probably have been crushed.  I rang the MD who I have to say was round within seconds apologising and realising i lived alone and the problem with the dogs.   within an hour and it was getting dark he had sent round to workmen with a chain saw, van etc. and they removed the bulk of the tree in my garden.  Returning tomorrow for the rest.    The house next door which is currently empty as they are doing it up and took completition about 5 days ago they have 2/3rd of the tree which is absolutely gigantic. Not sure what will happen there as they dont even know.
10th Been back a few days and I have now been joined by another two English Setters Scarlet (the hillbillies mum) and whisper, whilst their owner Linda takes a few weeks break on a Cruise Ship.  Some of her dogs are still at home and other elsewhere.  So we now have at present 5 Setters, 2 Adult Minis and one puppy and a partridge in a pear tree.   Doubt i will manage to get a photo of them all together.
5th Early start and a wet journey to the East coast for a well deserved break with William, Acer, Silva, Crumble and Brit-Vic.   Although it was mainly wet, windy and cold – Tuesday the sun did shine for about an hour. Few more photos on my holidays page.
4th Went over to Jill in Ratby Leicester who owns 3 minis herself, and dropped off Toffee  before I went off on a short break .  Whilst away Jill popped this  lovely photo on facebook
.
OCTOBER
29th Enjoyable day showing Acer & silva at Midland counties championship show at Stafford.  Acer got a 3rd and Silva 5th.   Really pleased as at last I felt in tune with them both when moving, and they were both so happy in the ring.  At last they are learning.
4th I treated a friend who has been doggy sitting for me when i go off showing,  to a fabulous Lunch at the Savile Restaurant,  Rufford Abbey Country Park, Nr. Ollerton, Nottinghamshire.     I have to say starter and Carvery would normally have been £35 and there is no way i would have paid that much, but got a great Groupon deal £l5 for two. My starter was absolutely delicious like a filo pastry case filled with creamy sliced mushrooms, followed by their home cooked Carvery –  including scrummy parsnips, swedes, creamy mash potatoes topped with cheese, melt in the mouth turkey, beautifully cooked sliced carrots,  and even the Yorkshire Puds were home made batter definitely not Aunt Bessies.
3rd More good news took Acer today to Pride Park Veterinary Centre in Derby for his hearing test – great news BAER tested normal .  So this is yet another Health Test that can be added to his Kennel Club online Profile that he has passed with flying colours..
SEPTEMBER
30th Really pleased had Acers Hip Scored under the Kennel club British Veterinary Association Scheme at the end of September, and just viewed the results on his Kennel Club Health Results online tonight.   Brilliant low score of 6/4 which is a total of 10. (The Breed average is a total of l5)
18th Attended Darlington Championship Show today at Ripon Race course – beautiful venue.  Lovely big rings. Pleasant day out as just entered Acer – still at the bottom end of the Junior class and we got a 3rd.  Not easy trying to get him to sit upright he just kept flopping down.
.
5th Something a little different today – They now have these "Fields of Freedom" large 4/5 Acre Secure Paddocks up and down the country that you can rent on an hourly basis.  So today Debbie who has a black/Tan Coonhound and Dachsund (another 9 she left at home)  and me with William, Acer, Silva, and Brit-Vic went off to Chesterfield for an hours walkies.  It wasnt easy getting a photo of 6 dogs in one place at the same time. (Crumble was obviously at home nursing her babies)
4th Early 7 a.m. start to Birmingham Championship Show at Stoneleigh, Staffordshire. Little disappointing today but both the Hillbillies were now out of Puppy and  had for the first time moved up to the Junior Class and were the youngest .   Acer 4th out of 5 and Silva did a little better 4th out of 10.   Photo courtesy of Lesley.
AUGUST
31st It was the Hillbillies first Birthday on 24th August so time for Hip Scoring.   I decided initially to have Acer done first as its not cheap.  Plus its always worrying having a full anaesthetic.   He's now back home and my vet thought they looked really good.  Now have to wait for them to be sent to the British Veterinary Association who will in turn forward them onto the Kennel club, who then return the Green form and Xray appropriately filled in with the scores for each hip.  I imagine it will take about 4 weeks.
17th August Went over to see Bev & Don near  Retford to trim their lovely English Setter Rio. Then the best bit was meeting one of their Freesian Horses Arette – how magnificent are they.
15th Treated by a friend Viv who owns 3 cockers, to a lovely Lunch as its the last time before she moves lock stock and barrel to Benijofar in Spain on 31st August.  I took my camera to take a photo and forgot . so when I got home I just took a selfie then turned it into a black/white.  So at least I have some sort of memory of the last time we met in the UK.  Will hopefully visiting both her and another friend in 2017.  Cant wait for a Holiday in the Sun.
7TH    6 A.M Very early start from Nottingham with the Breeder of the Hillbillies Linda to National Gundog Championship Show held at The Three Counties showground in the Malvern Hills – beautiful backdrop . Their last English Setter Puppy class at just over 11 months of age and Acer ended up getting Best Puppy Dog and Silva 2nd in Puppy Bitch. They now move up to the Junior class for Age 12-18 months old.
25th Second walk of the day down by a lovely cool stream, with William in his cool vest and the two Minis.
24th Leeds championship Dog Show at Harewood House.  Lovely venue, beautiful semi sunny day.  Acer got a lst in his Puppy Class(Below) and Silva was awarded a 2nd.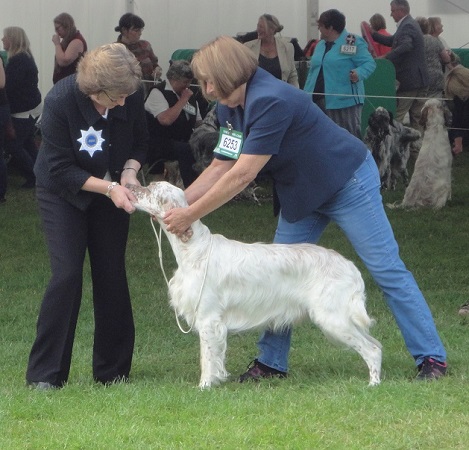 17th Spent the day spectating at the Alfreton & district Open Show. No English classes today but supported a friend with an English Setter in the Any Variety and another who was there with her Pointers.   They both had a fantastic day. English winning Gundog Group and the Pointer Gundog Puppy group.  I must have been a lucky mascot.
10th East of England Championship Dog Show (Peterborough)  – Acer won a 1st in Puppy Dog and then challenged the Minor Puppy Dog and won Best PUPPY DOG.  Silva did exactly the same and won Best PUPPY BITCH.  Linda their Breeder handled Acer and I handled Silva against each other for Best Puppy in the Breed which Silva won. Then followed through the post a lovely card from a friend.
  jUNE
30th Had a lovely morning at the home of Scentaway Black & Tan Coonhounds. Went with Debbie who already owns Pumpkin from the previous litter.   The Breeders are Estella, Phil & Antonio. Top photo one of the 10 week old puppies, me with a puppy, one of the Adult Bitches.   They are all just so so laid back and calm.
27th Went to see a friend who lives local and Shows Cavalliers – she currently is running on  3 four month old puppies that were just adorable.  Photo below of two of them.  Just couldnt get the 3 together.
 English Setter Pups that are staying for 5 days whilst a friend is taking a short holiday.   Photo below nearly 10 weeks old.
17th Couldnt resist taking this photo of Acer – especially as the garden was so in bloom.  Nearly 10 months old, Eventually a few days later managed to catch  his sister Silva who rarely stands and never ever sits still.
14th Crumble has come into Season and I hoping to mate her within the next week.  Appointment booked at the Vet in Southwell, Nottinghamshire to have her annual Eye Test. Glad to say passed with flying colours
4th Set off early for Melton Mowbray Open Dog show in Leics.   Silva was entered in Puppy and won a 2nd.  Took both William and Acer along as well for the ride.   Enjoyable day and a few laughs.
MAY
24th Kerry the owner of the Stud Dog I used has just sent some lovely photos she took in the grass run of Brit-Vics litter at 8 weeks of age.
15th Early start 8 a.m as I knew the M1 was closed at Junctions 22/21 due to Bridge Repairs.     The diversion onto the M69 via Leicester Ringroad and an accident off the motor took me an additional hour to get to Bagington Hall in coventry for the Midland English Setter society Open show. A journey that normally takes around 50 mins took 2 hours.  I arrived 10 mins before the show started but judging had been delayed by 1/2 hour.    Both Acer and Silva got a second in their respective Minor Puppy classes and William also went along for the ride and a day out which i think he enjoyed.      Everyone is now shattered including me.
SILVA
ACER
 hillbillies sunbathing, and had a little photoshoot in the garden.
5th National championship dog show at Stafford. Unfortunately Acer had slipped jumping a log a few days ago and on bed rest as they say, so Silva and I enjoyed a very  successful day day out.   lst in Minor Puppy Bitch.
APRIL
23rd Williams 10th Birthday today –  Wouldnt believe he was once Wild Willie and is now Sweet William.
17th The Hillbillies Acer & Silva attended their first Championship Show – English Setter Association held at Stoneleigh in Warwicks and both qualified for Crufts 2017.    Silva 2nd in Minor Puppy bitch and Acer once again came lst in Minor Puppy Dog . Photo of Acer.
9th Its that time of year again Aintree Grand National.  The only time I ever bet – but I go stupid and  backed 9 horses £20 in total.  Holywell, Vics Canvas, Soll, Triojo D'Alene, First Lieutenant, Saint Are, The Druids Nephew, Silviniaco conti and Many clouds (lets hope the last two have a SILVA lining) .   I ended up with a 3rd Vics Canvas at 100/1 – realised I had bet to win and I thought I had done Each Way – so no winnings. Very disappointed.
6th I hadnt realised but apparently The Hillbillies – Acer & Silva have a Fan club .  Had a phone call today from a delightful  lady who has recently lost her English Setter asking if I knew of an older one looking for a new home, but in the meantime she told me her love of the Breed keeps her following their antics on my Website and how it makes her realise how much she misses her own and cant live without one.     Maybe I should start the Hillbillies Fan Club Blog page as I know of quite a few people who follow them with interest.Then I started playing around with photos and trying things out – 2 lovely head shots. I couldnt forget Sweet William  added below..
5th Met my Brother this morning at the half way point as he lives South Nottingham and I live South Derbyshire to join him and his Lab Bailey.  Went onto the Aerodrome again which is lovely and safe for them to race around and play. Of course the village idiot Acer has to find a bucket !!!  William wore his windproof jacket.
MARCH
25th Eastwood & district Open Show – thrilled once again.  Acer won his Junior class (4 present) then got Best Puppy in Breed, and then went on to get Gundog Puppy Group 2.   Photo of me, Acer, the English Setter Judge Peter Armstrong, and the Best of Breed Winner Linda with her bitch Valerie who also got Gundog Group 3.
.
23rd Unbeknown to me this morning on our Aerodrome walkies I had dropped one of my gloves (didnt realise until i returned to the car) There I am taking photos of the hillbillies and also videoing them galloping about along with William.   I have just returned home and downloaded the camera –  you guessed the little buggars are carrying the lost glove in their mouth – it could now be anywhere.
20th Relaxing day sitting in the beautiful sunshine with Lynn, Bill, William. his daughter Tequila, Pearl, my two hillbillies and the Minis.  Took a couple of photos to try out my new free Photo Editor I downloaded.    So this is William and Pearl in a theme called sunset. !!!
19th Nottingham Sherwood Foresters Open Show.  First time the hillbillies have been entered in an English Setter Breed Class although this is their second show.   Still no puppy class and only 7 months  …..   Acer – Star of the day won the Junior Class, Best Puppy in Breed, Res. Best of Breed and then Gundog Puppy Group 2.    Silva was still a little apprehensive and from the next show I will be able to handle her myself.
16th Out for lunch yet again to the Seven Mile Inn –  met Rita a doggy friend from Nottingham.  Couldnt resist ending the meal with the usual Baileys Ice Cream Sundae.
13th Had a visit today from Lynn and Karl who live locally along with their delightful Mini Fidget (Ingella Sweet William) who is a Britvic son. Took loads of photos but this was the only one that turned out. He also had his Eye Test last month and passed with flying colours.
12th Went over to Northampton for the Annual Crufts After show Party courtesy of Lynne & husband Bob who own and show Irish & English Setters. .  Always an enjoyable occasion and I was fortunately driven by Linda again so could have a few tots of Baileys.   Great night,good food, good company and plenty of laughs and catch up with old and new friends.   I did get a few photos taken of some of us, but decided in the end the Irish Setter won the best photo of the night.
FEBRUARY
27th Hillbillies first show today Newark & District Canine society at Newark in Nottinghamshire.  No English Setter classes scheduled so to give them a practise run so to speak they were both entered in AVNSC (Any Variety Not Separately Classified)  Gundog Puppy. A friend Sylvia handled Silva  (sounds like her namesake) who got a 3rd and Acer who I showed won Best AVNSC Gundog Puppy.   He then went into the Gundog Puppy Group and he also won Best Gundog Puppy.  By this time it was 3.30 p.m. and we decided not to stay for the final of Best Puppy in show as it had been a long day for their first show.  But absolutely thrilled.   Below are Acers Rosettes.  The Judge: Sarah Wood (Bresharo)   did take a photo but wont be sending it to me for another couple of weeks.
25th Went out with Rita for Lunch at Shabbylicious Vintage Tea Rooms, Stapleford in Nottingham. Lovely venue and interior.  Very let down and  disappointed with the food itself, and certainly not value for money either.
24th Exciting day Brit-Vic was scanned and she is pregnant but it looks as if there are not many puppies.  Anyway time will tell as still early days.   Crumble her half sister is due in season hopefully end of March and so between the two of them I will get myself one or two new bitch puppies.
23rd Today the Hillbillies Breeder Linda came over with their sister Alice so that we could have a trimming session.  Not an easy task but between us we managed it. Linda kindly struggled with them and I took the photos. They are now just over 6 months old. Acer bottom left and Silva on the bottom right.
19th Had a visit from a delightful 11 year old English Setter today called Rosie.   She hadnt been trimmed for about 6 months and is also spayed so was like a sheep when she arrived.   After her first ever 'All american Trim' she looked so clean, tidy and smart.    Such a pretty girl and the most fabulous temperament.   Delightful old lady with that lovely air about her who just lay there waiting for her owner with William who was obviously on the settee..
18th Felt really out of the loop so to speak with no computer for 6 days and even before then it was soooo slow and taking ages. But today it returned so some of the latest grown up photos of the Hillbillies.
9th Sue popped over from chesterfield along with Tia who had come for her "All american trim"  as she is spayed. She arrived looking like a sheep and left looking slimmer and certainly a lot smarter.  Chilling out on the settee whilst we had a cuppa and chocolate chip cookies – courtesy of Sue.
JANUARY
9th Ringcraft (show training) has commenced with the Hillbillies. Acer nearly stands but wont hold his head up when moving, and the opposite with Silva who wont stand and moves like a train with her head held high strutting her stuff.   This was the first attempt with them so very early days and they will be 6 months old on 24th February. They havent been out as much as I would like with this horrendous rain, rain and more rain, a few times off the lead together and individually in a very secure field. The first time Crumble joined us to give them something to focus on and she does return to the whistle.   Yesterday William went with them but it didn't make any difference.  They both seem to be selectively deaf at returning, Silva is worse than Acer.   Such different characters and personalities.
1st I have never before purchased clothes for children, but this Christmas I decided to get my 7 year old Great Niece Nettie  a dress –  I thought it was just lovely and having received a photo of her wearing it today,  I am absolutely thrilled that apart from the fact it fits she looks so pretty with her cockerpoo Timmy.
 HAPPY NEW YEAR
.